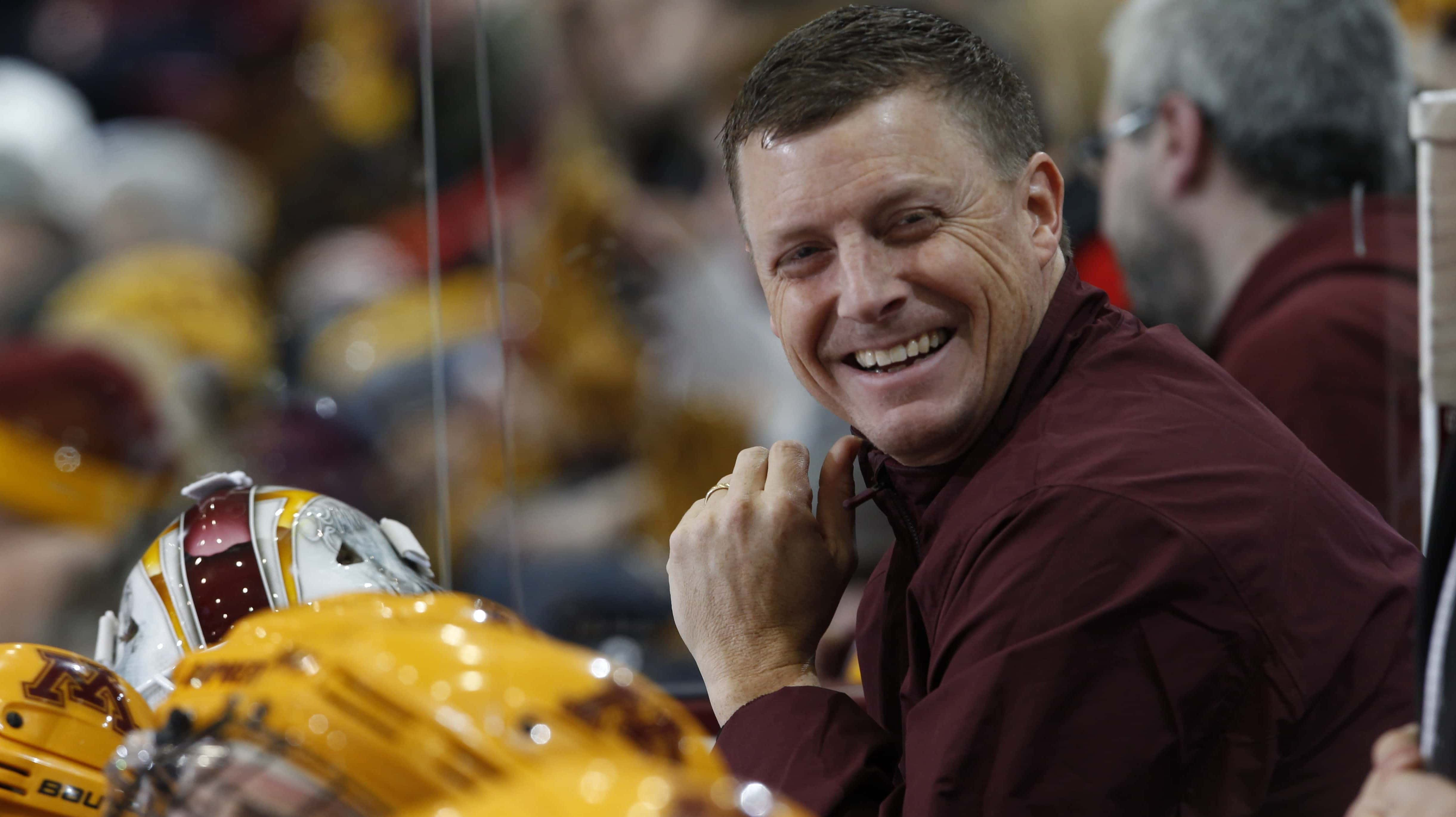 By Jess Myers
SOUTH BEND, Ind. — At 3:33 a.m. last Thursday, a photo was Tweeted from a hockey locker room in an otherwise empty arena in northern Indiana.
A full 39 hours before the Minnesota Gophers would hit the ice for their Friday night road game at Notre Dame, and seven hours before the players would even leave Minneapolis, their gear was already in place, more than 500 miles away, airing out and prepped for their arrival.
Starting the previous day after practice at Ridder Arena, a full size charter bus was loaded with the Gophers' 23 gear bags and it headed east with only the bus driver and a lone passenger on board. It was a routine long night for Lee Greseth, now in his 10th season as the Gophers' equipment manager.
That night, he spent the eight hours napping, watching videos and chatting with bus driver Ed Schmig as the frozen fields and forests of Wisconsin and Illinois rolled past in the dark. At a little after 3 a.m. Eastern, they rolled up to the loading dock at Compton Family Ice Arena on the Notre Dame campus, and 45 minutes later their work, for the time being, was done.
Little bus ride to South Bend and all moved in, just waiting for the team to arrive. pic.twitter.com/xaCtlWIe2Q

— GopherHockeyEquip (@GopherHkyEquip) January 10, 2019

Occupying the westernmost outpost in the Big Ten hockey conference, the Gophers fly to most of their road trips. They're located nearly 1,000 miles from Penn State, and a 15-hour bus ride there would be a bit much. The team bussed to road games at Minnesota Duluth and Wisconsin earlier this season, and is flying everywhere else.
But for the Notre Dame trip, and occasionally for other destinations, they do a hybrid where the gear is hauled by bus and the team arrives by air. In an era when airlines seemingly charge extra for everything, excess baggage fees mean there's fiscal sense in having the gear hit the highway.
"You might pay a little bit more for a over-the-road busing, but where you save is on your flight costs," said John Hamre, the program's director of hockey operations, who coordinates team travel and lodging. "You might save money when you charter a smaller plane, so then you can send your gear ahead on a bus. The other savings that can be recouped is from having your own bus on site to return the gear, which ties in to savings on the plane."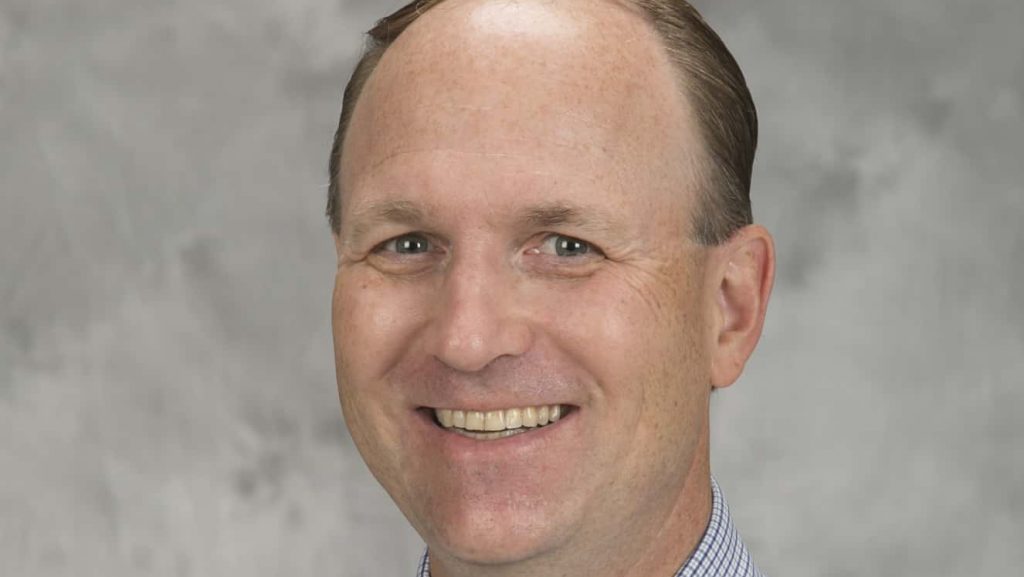 One challenge for teams when flying commercial is not knowing how much the airlines will charge for 20-plus extra bags filled with hockey gear.
"(Hamre) does a great job of reaching out to the airline, letting them know that we're coming in with a group and we'll have oversize items," Greseth said. "More often than not it's taken care of on the front end. It's just a crapshoot on how much you're going to be charged.
"Sometimes at the airport they'll say 'you're good.' Other times it will cost $500 or $1,500. You never know."
A lifetime in college hockey
Originally from Rochester, Minn., Greseth, 51, logged plenty of miles himself before ending up at the U of M a decade ago. He started out as a student equipment manager for the hockey program at since-shuttered U.S. International University in San Diego for two seasons.
After three seasons as a student at the U of M, his career took him to a stint at Colorado College, three seasons at Alaska Anchorage, three seasons at North Dakota, nine seasons at Denver and then back to his home state in 2009.
By this point, he has generally experienced everything and owns three NCAA championship rings from North Dakota (2000) and Denver (2004 and 2005). The keys to his job are being prepared for all that you may need on the road, working closely with the opposing team's equipment manager, and being prepared on the bench during games to move quickly if there's a pressing equipment need.
"I'm looking for broken sticks, so on faceoffs I'll be aware of where the center's spare stick is among the backups, and try to have my hand near it and be ready," Greseth said. "If a guy goes down and it looks like he went down too easy, I'll check his skate when he gets to the bench because with interchangeable blades it's easy to switch them out."
He also gets to know players' preferences, like the Denver star who wanted the rivets on his skates to be loose, or the players who don't necessarily want their skates sharpened every game, or even every week.
"Some guys are very particular," Greseth said. "I think I sharpened Casey Mittelstadt's skates maybe three times all season. If guys want them done, they'll tell me."
Buying in bulk
While hockey parents universally grumble about having to purchase their child a new stick (at as much as $300 or more apiece) annually, Greseth said each Gopher brings five sticks on every road trip. The program budgets for two dozen sticks per player, per season. That means Greseth is purchasing about 700 sticks from Bauer — the team's official stick, skate and gear supplier — every fall. Nike is the apparel sponsor, providing jerseys and socks.
When the players arrive at a visiting rink's locker room, Greseth has already been at work laying out those jerseys and socks, making it feel, at least a little, like home.
"Behind the scenes we have some of the best guys in the country. To walk into a locker room like that, it feels professional," said Gophers senior forward Jack Ramsey. "It takes away some of the level that you're on the road when you walk in and even your nameplates are up, so you feel that it's your locker. It makes it easier walking into an opponent's rink knowing you have your own spot."
Working the overnight shift
Greseth had plenty of spots to choose from on that lonely ride to Indiana last week, and although he had the option to fly home with the team, was planning to ride the bus back with Schmig. Then it snowed all day in South Bend, and the team found out shortly after their 2-1 win over the Fighting Irish, that the charter plane had been unable to get there.
"Looks like I will have a bunch of company on the bus now," Greseth texted a friend as the team pulled out of the arena and embarked on an eight-hour overnight ride back to Minneapolis, where he would unpack their equipment upon arrival in the wee hours of Sunday morning.
Just another long night on the job for the Gophers' gear guy.
Jess Myers (@JessRMyers) can be reached at jrmyers@forumcomm.com.