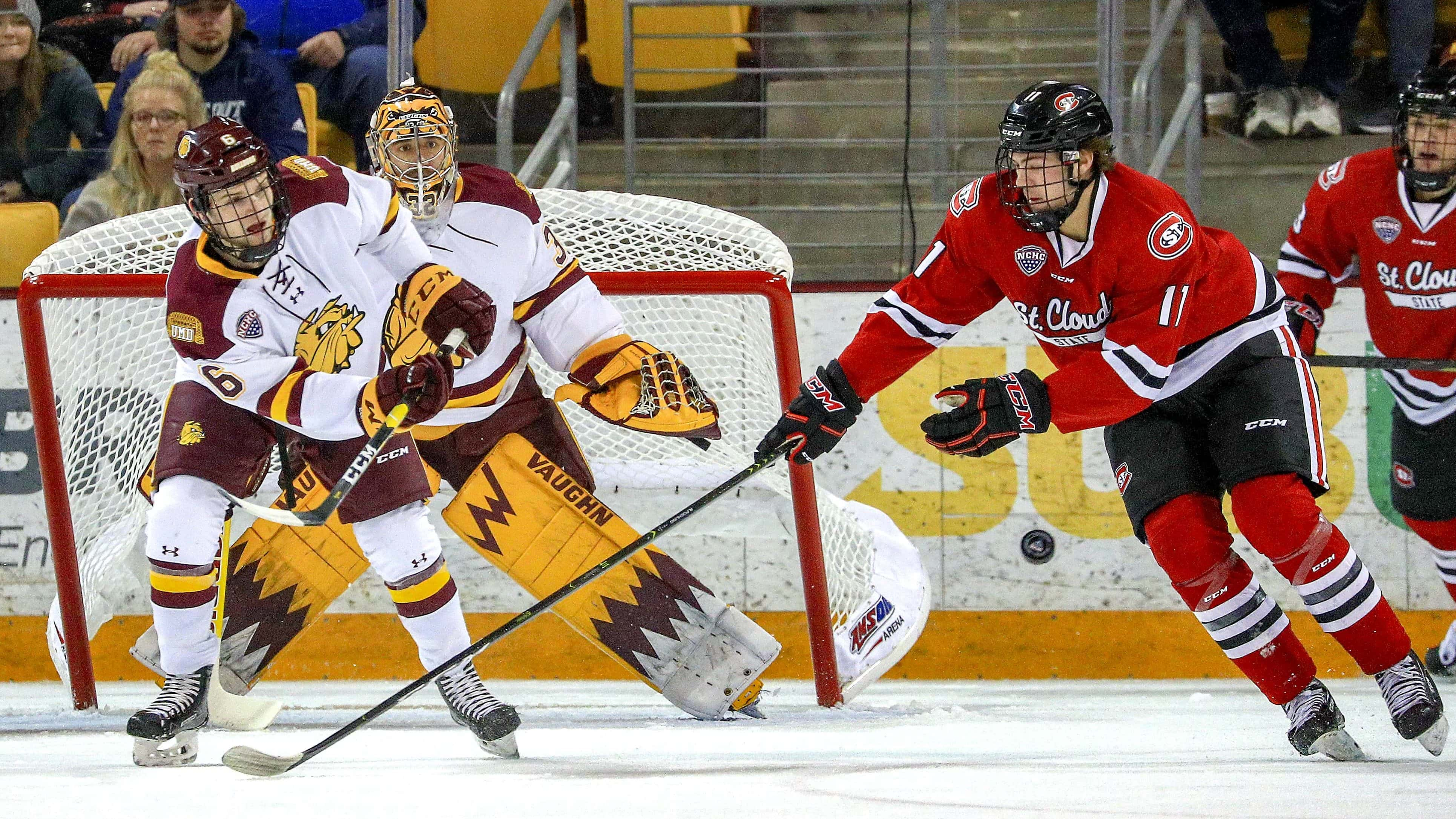 By Matt Wellens
DULUTH — Minnesota Duluth took a sizable bite out of St. Cloud State's lead atop the NCHC on Friday night.
The No. 1-ranked Huskies made the fifth-ranked Bulldogs spit that chunk back out on Saturday, however, scoring four unanswered goals for a 4-2 victory before a crowd of 6,647 at Amsoil Arena.
St. Cloud State, coached by former Bulldogs player and assistant coach Brett Larson, came into the weekend eight points ahead of UMD (12-6-2 overall, 5-4-1 NCHC) and seven up on second-place Western Michigan.
The Huskies (15-3-2, 7-1-2) leave with an eight-point advantage on UMD while Western Michigan was able to pull within four via a sweep of Miami in Kalamazoo, Mich.
"St. Cloud is the No. 1 team in the nation for a reason," Bulldogs sophomore center Justin Richards said. "Any time you can close out a team and sweep them and gain points on them in the league is huge. We're definitely really disappointed with the end result tonight. We did split with them, so that's a positive to take away."
Huskies sophomore goaltender David Hrenak finished with 30 saves on 32 shots a night after UMD junior goaltender Hunter Shepard stopped 30 of 31 shots in a 3-1 UMD win. Shepard made 18 saves Saturday.
The Bulldogs appeared to be heading into the first intermission with a 2-0 lead, however, the Huskies scored twice in the final 2:09 of the first period to knot the game at 2-2.
St. Cloud State then took a 3-2 lead just 4:25 into the second period when sophomore wing Easton Brodzinski busted a move to beat Bulldogs defenseman Nick Wolff and Shepard for his ninth goal of the season.
The Huskies' first goal of the night was the first collegiate goal for freshman defenseman Spencer Meier. His snipe from the right side after an ideal setup by junior defenseman Jack Ahcan came with two seconds remaining on a power play to end a streak of 33 straight successful kills by the Bulldogs, who entered the night with the nation's top penalty kill (93.2 percent).
The Huskies tied the game 49 seconds later off a turnover by UMD senior captain and wing Parker Mackay, who backhanded the puck right into the middle of his own zone. St. Cloud State senior captain and defenseman Jimmy Schuldt was there waiting for the easy goal.
Senior wing Robby Jackson picked up his 10th goal of the season via a rebound with 1:59 to go in the game.
"The second period, aside from giving up the early goal, we did some good things, but it's not good enough," Bulldogs coach Scott Sandelin said. "It's not good enough right now. This team has got to learn and hopefully this was the last lesson they need to learn from."
UMD took a 1-0 lead 3:13 into the game by doing what it did so well in Friday's 3-1 victory — forcing a turnover behind the Huskies' goal on the forecheck. This time it was Richards forcing the turnover, Mackay dishing the puck and junior wing Riley Tufte scoring the goal from the slot.
Richards made it 2-0 at the 13:37 mark of the first by scoring the Bulldogs' first power play of the weekend. UMD thought it scored early on that advantage when a shot by from the blue line by sophomore Scott Perunovich found the top right corner of the net, but the goal was waved off — and not reviewed — after it was ruled it went in off a high stick by Tufte.
After that, Sandelin said his team got away from the game plan. The team failed to play like it did in the first 7-8 minutes for a whole 60 minutes on Saturday, he said.
"If we're not willing to stay with a game plan and stay with how we need to play and do it consistently, we're going to have games like that," Sandelin said. "That's not going to be good enough to go anywhere. It's not going to be good enough to move up the standings in this league. We got to rectify it and solve it quickly and get guys reset and on the same page."
Game summary
St. Cloud State 2-1-1—4
Minn. Duluth 2-0-0—2
First period — 1. UMD, Riley Tufte 5 (Parker Mackay, Justin Richards), 3:13; 2, UMD, Richards 6 (Dylan Samberg, Mikey Anderson), 13:37; 3. SCSU, Spencer Meier 1 (Jack Ahcan, Patrick Newell), 17:51 (pp); 4. SCSU, Jimmy Schuldt 6, 18:40. Penalties Sam Hentges, SCSU (holding), 12:10; Nick Wolff, UMD (holding), 15:53.
Second period — 5. SCSU, Easton Brodzinski 9 (Hentges, Micah Miller), 4:25. Penalties — Blake Lizotte, SCSU (tripping), 12:36; Nick Poehling, SCSU (roughing), 18:37; Scott Perunovich, UMD (roughing), 18:37.
Third period — 6. SCSU, Robby Jackson 10 (Newell, B. Lizotte), 18:01. Penalties — Mackay, UMD (tripping), 2:15; Brodzinski, SCSU (roughing), 3:31; Ryan Poehling, SCSU (hooking), 9:34.
Shots on goal — SCSU 6-12-4—22; UMD 8-13-11—32. Goalies — David Hrenak, SCSU (32 shots-30 saves); Hunter Shepard, UMD (22-18). Power plays — SCSU 1-of-2; UMD 1-of-5. Referees — Gino Binda, Timm Walsh. Linesmen — Sterling Egan, Brandon Schmitt. Att. — 6,647.