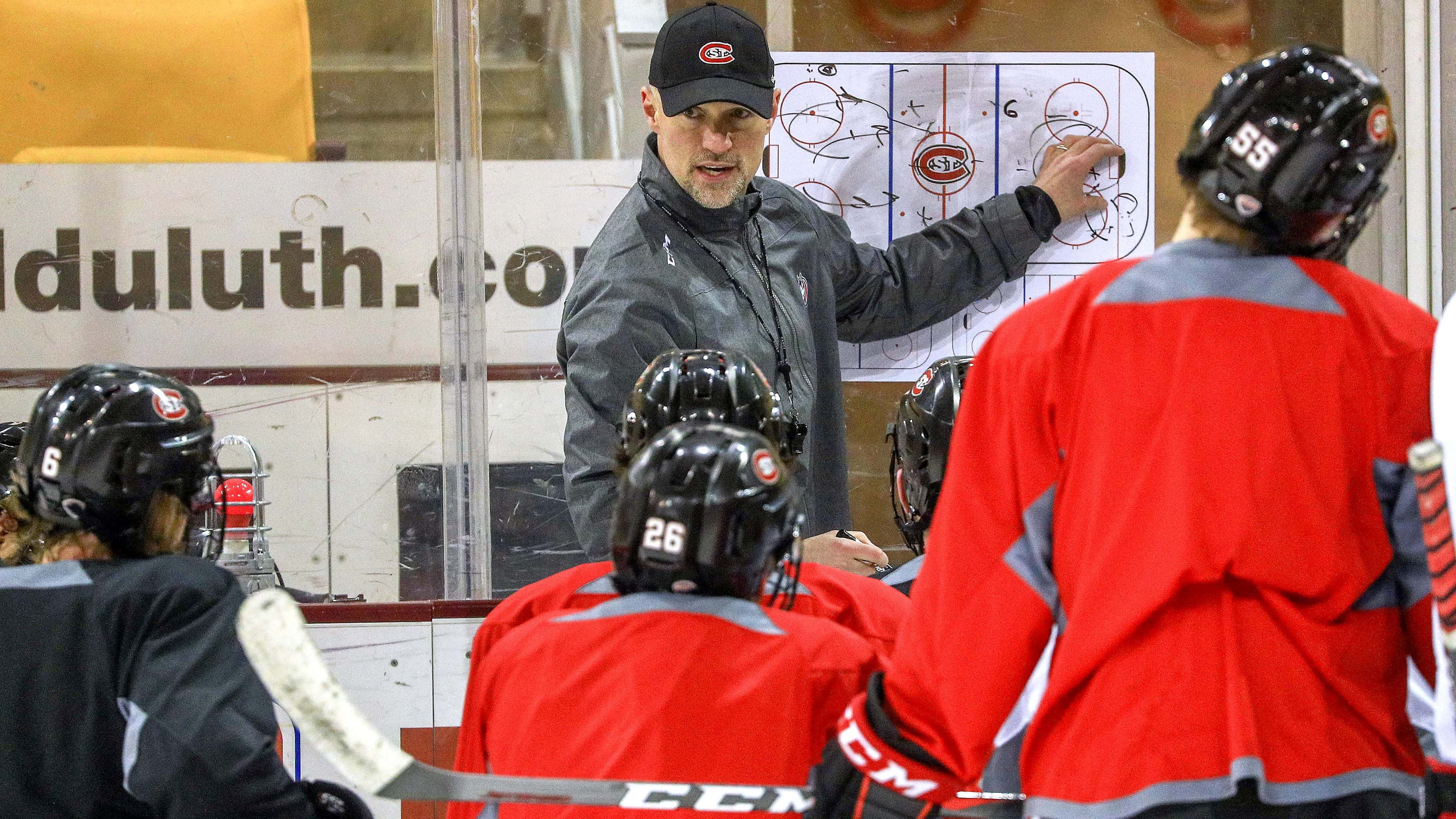 By Matt Wellens
DULUTH — Upon his hiring as head coach of St. Cloud State in April, former Minnesota Duluth defenseman and assistant coach Brett Larson was told by his 9-year-old son, Lane, "Dad, I hate the Huskies. How could you?"
So Larson enlisted three of the Huskies' biggest stars — Ryan, Jack and Nick Poehling — to help win over the younger Larson, and it appeared to work. By NCHC Media Day in September, when Larson told the story of his son's reaction, he reported the Poehling brothers were successful in converting his son.
Or so Dad thought until this week, when a trip back to Duluth came up on the calendar.
"He likes to tease me a little bit," Larson said Tuesday by phone from St. Cloud. "He was telling me last night he's still not sure what he's going to wear. … Just like any young kid, they like to poke their dad a little bit here and there and he knew that would get to me."
Larson said he knows his son will be in red and black, not maroon and gold, this weekend when the family returns to Amsoil Arena Friday and Saturday to watch Dad lead the top-ranked Huskies against the fifth-ranked Bulldogs in a key NCHC series to start 2019. Puck drop is scheduled for 7:07 p.m. both nights.
Larson, whose first-place Huskies lead the third-place Bulldogs by eight points in the conference standings, graduated from Denfeld High School in 1991 before playing four seasons on the Bulldogs' blue line from 1991-95. He returned as an assistant coach twice from 2008-11 and 2015-18, helping UMD win a national championship at the end of both three-year stints.
Despite taking a job with the rival Huskies, Larson remains a very popular person inside Amsoil Arena with players, coaches and staff.
It's likely his son won't be the only person inside the arena with conflicted rooting interests this weekend. Lane should have plenty of company, no matter what colors he chooses.
"He was great to work with," longtime UMD equipment manager Chris Garner said. "He's missed around here, but we're all happy for him that he's moved on to a head coaching position, and he's in a good position with a good program. I look forward to seeing him, but I hope we kick their butt this weekend, too."
Garner said Larson brought balance to the Bulldogs' coaching staff, whether it was working alongside Steve Rohlik — currently the head coach at fourth-ranked Ohio State — from 2008-10, Derek Plante in 2010-11 or alongside Jason Herter the three previous seasons. Larson was professional and focused, but he also kept things loose and fun, Garner said.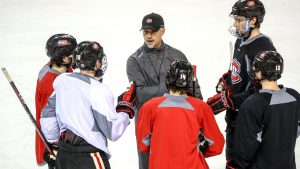 Players really fed off Larson's infectious personality, Garner said. UMD senior captain Parker Mackay was among that group the previous three seasons playing for Larson.
"He was always there for a good laugh if I needed to chirp somebody. We had that kind of relationship. He'd let me have it on the ice just knowing it was all in good fun," Mackay said. "He made it fun to come to the rink. He was good at inspiring guys. He inspired me to do some things that I didn't think I could do. He was always ready to work on stuff with me."
Mackay said Larson was someone the players could always talk to. He was always there for them, no matter what, Mackay said.
Junior wing Riley Tufte credited Larson's positivity for getting him through his first semester with the Bulldogs in 2016-17. The 2016 first-round draft pick of the Dallas Stars struggled early on after coming to college right out of high school and then missing the first four games of the season due to an injury. He didn't score until after Christmas.
Larson was always there for him, through the good and bad, Tufte said.
"He was just awesome to talk to, a great guy to talk to, not even about hockey too, but about life and stuff and school, just like any of these coaches," Tufte said. "He was always someone you could rely on. He was unbelievable. He was awesome."
Junior goaltender Hunter Shepard found himself sitting and watching games for the first time in his hockey career as a freshman in 2016-17.
Larson was the one who went to Bismarck, N.D., to recruit Shepard while he was playing for the Bobcats in the North American Hockey League in the spring of 2016 and Shepard said Larson was there again to help him get through a season in which he played just two games.
Senior center Peter Krieger had a similar story. The 2016-17 season was his first at UMD and unlike Shepard, he didn't get to play a single game as he had to sit out the season per NCAA rules after transferring in from Alaska Fairbanks.
Larson was there pushing him everyday in practice, Krieger said.
"I remember my first practice as a Bulldog, my redshirt year," Krieger said. "It was my first drill of the day and I went offside. He just came up, pulled me aside and said, 'Hey Kriegs, I know you can't play this year, but really work on those little details.' From Day 1 of stepping on campus, he made an impact on my time here. He's left his footprint on this program for sure."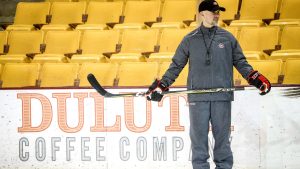 Larson's return to Amsoil this weekend marks the first time UMD will face an opponent coached by an alumnus since former player and coach Mike Sertich brought Michigan Tech to the DECC for a WCHA series Nov. 10-11, 2000. Rookie coach Scott Sandelin scored his first victory with the Bulldogs on the second night of that series.
The following week, Sandelin took the Bulldogs back to his alma mater, North Dakota, to face his former boss, Dean Blais. It's a night Sandelin said he still remembers vividly.
"It was awkward," said Sandelin, who surpassed Sertich as the Bulldogs' all-time winningest coach with the 4-3 overtime win over Minnesota State-Mankato on Dec. 28, despite being in Victoria, British Columbia, serving as an assistant coach for the U.S. Junior National Team. "When the game starts, you're focused on winning the game and doing what you can for your team as a coach to help you win the game. When the game is over you're back to being friends again.
"It will probably be a little different for him coming back here but he should be pretty confident with the team he has in front of him. It will be weird to see him on the other bench, but excited to have him back and glad that he is doing what he's doing because it is not a surprise."
Larson said Tuesday he does expect the walk from the visitors' locker room across the Amsoil Arena ice to the visitors' bench to be strange, but once the puck drops, that will all change.
He compared this weekend's series to growing up in Duluth and playing against his best friend. There was no one they competed harder against than each other.
"I know they are going to want to beat me more than anyone else and I'm going to want to beat them more than anyone else," Larson said.
NO. 1 ST. CLOUD STATE (14-2-2) AT NO. 5 UMD (11-5-2)
What: NCHC series
When: 7:07 p.m. Friday and Saturday
Where: Amsoil Arena
TV: My9
Radio: KDAL-AM 610/KDAL-FM 103.9
Internet: nchc.tv (video)
Matt Wellens (@mattwellens) can be reached at mwellens@duluthnews.com or (218) 723-5317.